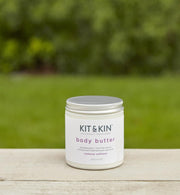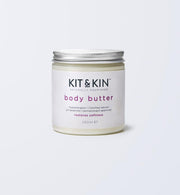 Better for mum
Skin is the body's largest organ and absorbs up to 60% of ingredients in the products we apply. Many bath and body products available today contain toxic ingredients such as parabens and SLS; these synthetic ingredients have been recognised to cause irritation and may even have damaging effects longer term. However, there's much you can do to protect yourself and your family.
Certified Natural

Kit & Kin skincare is certified natural by the COSMOS association, is hypoallergenic, and approved by dermatologists. Your baby deserves the best. You deserve the best. We only use pure oils, gentle herbs and the cleanest ingredients. Our fabulous range will help protect your little ones soft delicate skin and ensure your family steers clear of any harmful toxins.
Giving back
Every product gives back through the Kit & Kin Foundation. Thanks to your support we help protect acres of threatened rainforest around the world and support women and children living in these areas with educational scholarships, family planning clinics and healthcare. Together, we can make a real difference.
Beauty without bunnies
Kit & Kin are proud to be a member of PETA (People for the Ethical Treatment of Animals). By purchasing cruelty-free products you can help save a number of animals from excruciating tests and a lifetime of suffering.
Does the brand you use test on animals? You can check out here
Awards

Silver
Best New Brand to the Market

Absolute Design Award

Platinum
Best Babies Toiletries Collection

Cruelty Free

Bronze
Best New Mum/Maternity Skincare Product
Testimonials
"A thick and creamy formula, leaving your skin hydrated and gloriously silky smooth"
- Angels & Urchins
"Fantastic for sensitive skin, this newly launched Kit & Kin body butter is fast becoming a My Baba favourite. Made from butters and oils, the soothing butter is vegan and cruelty-free too!"
- My Baba
"The body butter takes me to heaven!"
- The Frenchie Mummy
"I'm yet to find a product of yours that isn't great! We use the bubble bath, nappies and nipple balm at the moment and they all rock!"
- Kirsty S.
Key actives in our body butter
Aloe Vera Powder
Aloe barbadensis, or Aloe vera is a succulent plant which offers many benefits and is suited for all skin types, especially dry, damaged, broken, sensitive and irritated skin. It offers anti-inflammatory, antimicrobial, antioxidant, humectant and soothing, anti-itch qualities for skin.
Flax Seed Oil
High in Omega 3 Fatty Acids. Known for its toning, firming and anti wrinkle properties.
Jojoba Oil
Antibacterial and antifungal properties. Contains myristic acid which has anti-inflammatory actions. Since it is similar in composition to the skin's own oils, it is quickly absorbed and thus excellent for dry skins as well as inflamed skin. Softens and protects the skin and improves suppleness.
Lipex Shea Light
Eco-designed ester for light, silky soft feeling skin.
Mango Butter
Contains natural emollient qualities that help keep the skin moisturised. It possesses similar qualities to cocoa butter and Shea butter in the way of consistency and benefits, however it contains higher levels of fatty acid making it a more intensive moisturiser. Mango butter contains high levels of antioxidants and beneficial vitamins A, C, and E. Just 1 cup of mango can provide you with 80% of your daily vitamin C intake and 25% of vitamin A.
Organic Cocoa Butter
Derived from the cocoa bean found on the cocoa tree, a tropical evergreen grown in South America and Africa. Gives softness, nourishment and protection in skin care. Antioxidant, anti-wrinkle & hydrating.
Organic Mangosteen Extract
Full of antioxidants. Repairing, antibacterial and anti-inflammatory effects.
Organic Pomegranate Extract
Moisturising and repairing. Good for skin conditions such as mature, sunburned and ageing skin. Helps resolve fine lines and wrinkles. Pomegranate is rich in vitamin C, vitamin B5 (pantothenic acid), potassium and anti-oxidant polyphenols.
Organic Shea Butter
Good for moisturising, protecting and healing the skin, especially dry and damaged skin. It has mildly antibacterial and anti-inflammatory properties, good moisture-retaining properties and protects the skin from the sun and from drying out. Excellent softening properties making the skin soft and supple.
Rosehip Oil
Penetrates the skin and almost instantly restores the needed moisture balance. Natural Vitamin A.
Kit & Kin Promise
Our products are made without: Parabens, silicones, dyes, synthetic fragrances, formaldehyde carriers, gluten, PEGs or most common allergens
Ingredients
Aqua, Theobroma Cacoa (Cocoa) Seed Butter, Glycerin, Butyrospermum Parkii (Shea) Butter*, Glyceryl Stearate, Squalane, Cetearyl Alcohol, Shea Butter Ethyl Esters, Coco Glucoside, Sucrose Stearate, Gluconolactone, Linum Usitatissium (Flax) Seed Oil, Mangifera Indica (Mango) Butter, Parfum, Coconut Alcohol, Simmondsia Chinensis (Jojoba) Seed Oil, Xanthan Gum, Rosa Canina (Rosehip) Fruit Oil, Garcinia Mangostana Fruit Extract*, Helianthus annuus (Sunflower) Seed Oil, Aloe Barbadensis (Aloe) Leaf Juice Powder*, Punica Granatum (Pomegranate) Fruit Extract*, Sclerotium Gum, Tocopherol, Calcium Gluconate, Sodium Benzoate, Citric acid, Potassium Sorbate
*Organic
Ingredients 99% natural origin of total