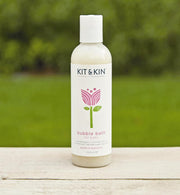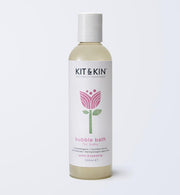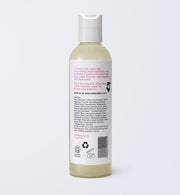 Better for baby
Newborn skin is delicate, and so is a baby's immune system. Skin is the body's largest organ and absorbs up to 60% of ingredients in the products we apply. Many bath and body products available today contain toxic ingredients such as parabens and SLS; these synthetic ingredients have been recognised to cause irritation and may even have damaging effects longer term. However, there's much you can do to protect your baby.
Certified Natural

Kit & Kin skincare is certified natural by the COSMOS association, is hypoallergenic, and approved by dermatologists. Your baby deserves the best. You deserve the best. We only use pure oils, gentle herbs and the cleanest ingredients. Our fabulous range will help protect your little ones soft delicate skin and ensure your family steers clear of any harmful toxins.
Giving back
Every product gives back through the Kit & Kin Foundation. Thanks to your support we help protect acres of threatened rainforest around the world and support women and children living in these areas with educational scholarships, family planning clinics and healthcare. Together, we can make a real difference.
Beauty without bunnies
Kit & Kin are proud to be a member of PETA (People for the Ethical Treatment of Animals). By purchasing cruelty-free products you can help save a number of animals from excruciating tests and a lifetime of suffering.
Does the brand you use test on animals? You can check out here
Awards

Silver
Best New Brand to the Market

Absolute Design Award

Platinum
Best Babies Toiletries Collection

Cruelty Free

Bronze
Best New Mum/Maternity Skincare Product
Testimonials
"We've been trying the bubble bath and body wash and they smell divine (think hints of lavender, mango and strawberry) and have left both children's skin clean and soft."
- Bambino Goodies
"The hair and body wash and bubble bath smell lovely, and are kind to little ones' skin."
- Newcastle Family Life
"It was kind on Little L's sensitive skin and he felt really soft after his bath. And it created some really good bubbles!"
- Oh Little One Sweet
"I'm yet to find a product of yours that isn't great! We use the bubble bath, nappies and nipple balm at the moment and they all rock!"
- Kirsty S.
Key actives in our bubble bath
Aloe Vera Powder
Aloe barbadensis or aloe vera is a succulent plant which offers many benefits and is suited for all skin types, especially dry, damaged, broken, sensitive and irritated skin. It offers anti-inflammatory, antimicrobial, antioxidant, humectant and soothing, anti-itch qualities for skin.
Gingseng Extract
Antioxidant. Calming, moisturising and soothing.
Lavender Extract
Anti-redness, anti-acne, relaxing and soothing.
Mango Extract
Mangoes contain high levels of antioxidants and beneficial vitamins A, C, and E. Just 1 cup of mango can provide you with 80% of your daily vitamin C intake and 25% of vitamin A. It has been proven that vitamins A and C have a direct influence on hair growth making this ingredient a very important contributor to healthy hair. Helps protect, hydrate & refine skin tone.
Marshmallow Extract
Used to treat inflammatory skin conditions such as eczema and contact dermatitis.
Organic Plum Phytapure Extract
Pentavitin®
Body moisturiser. Feel deep hydration and visibly smoother skin.
Strawberry Extract
With its high phytosterols contents it gives amazing anti-oxidizing and free radical scavenging properties, as well as anti-inflammatory help for reddened skin, an increase in skin's barrier protection abilities, a reduction in transepidermal water loss (TEWL), a reduction in itching and dry skin, and help improving the quality of weather damaged skin. Good source of Vitamin C.
Our commitment to you
Our products are made without: Parabens, silicones, dyes, synthetic fragrances, formaldehyde carriers, gluten, PEGs or most common allergens
Ingredients
Aqua, Sodium Coco-sulfate, Coco Glucoside, Glycerin, Polyglyceryl-4 Caprate, Cocamidopropyl Betaine, Sodium Chloride, Gluconolactone, Eleutherococcus Senticosus (Siberian Ginseng) Root Extract*, Althea Officinalis (Marshmallow) Extract*, Aloe Barbadensis (Aloe) Leaf Juice Powder*, Lavandula Angustifolia (Lavender) Water*, Saccharide Isomerate, Prunus Domestica (Plum) Fruit Extract*, Fragaria Ananassa (Strawberry) Fruit Extract, Mangifera Indica (Mango) Fruit Extract*, Phytic Acid, Calcium Gluconate, Parfum, Sodium Citrate, Sodium Benzoate, Citric Acid
*Organic 54%
Ingredients 99% natural origin of total