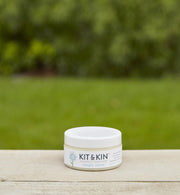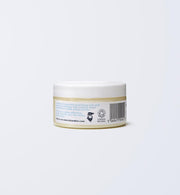 Better for baby
Newborn skin is delicate, and so is a baby's immune system. Skin is the body's largest organ and absorbs up to 60% of ingredients in the products we apply. Many bath and body products available today contain toxic ingredients such as parabens and SLS; these synthetic ingredients have been recognised to cause irritation and may even have damaging effects longer term. However, there's much you can do to protect your baby.
Certified Natural

Kit & Kin skincare is certified natural by the COSMOS association, is hypoallergenic, and approved by dermatologists. Your baby deserves the best. You deserve the best. We only use pure oils, gentle herbs and the cleanest ingredients. Our fabulous range will help protect your little ones soft delicate skin and ensure your family steers clear of any harmful toxins.
Giving back
Every product gives back through the Kit & Kin Foundation. Thanks to your support we help protect acres of threatened rainforest around the world and support women and children living in these areas with educational scholarships, family planning clinics and healthcare. Together, we can make a real difference.
Beauty without bunnies
Kit & Kin are proud to be a member of PETA (People for the Ethical Treatment of Animals). By purchasing cruelty-free products you can help save a number of animals from excruciating tests and a lifetime of suffering.
Does the brand you use test on animals? You can check out here
Awards

Silver
Best New Brand to the Market

Absolute Design Award

Platinum
Best Babies Toiletries Collection

Cruelty Free

Bronze
Best New Mum/Maternity Skincare Product
Testimonials
"Our hero product! It might be designed to prevent nappy rash but we've found it works wonders on dry skin and chapped lips too."
- Fabric
"Works both as a soothing moisturiser and as a barrier cream."
- Captain Bobcat
"It is brilliant to prevent and soothe nappy rash."
- Titchy Princess
"The magic balm has completely stopped my dry skin from itching. Nothing else I've tried has worked until this!"
- Sarah C.
Key actives in our magic salve
Blackcurrant Seed Oil
Known to be wonderful for skin that has undergone some sort of trauma eg post-laser treatment, sun burn etc. Rich in vitamins, antioxidants, essential fatty acids and anti-inflammatory properties. It helps slow down the skin's aging process and is wonderful for repairing damaged tissues, healing scars and minimizing the appearance of fine lines and wrinkles.
Calendula Oil Infused
The common marigold, known for its healing properties. One of the best known and versatile healing herbs which contains a high level of carotene; a powerful antioxidant that works well to fight free radicals. An antiseptic & regenerating oil used for its healing and tissue regenerating properties for all skin types and conditions, particularly good for oily acne prone skin.
Lavender Oil
Relaxing, soothing and promotes cell growth. Generally regarded as the most versatile oil therapeutically. Has a well-established tradition as a folk remedy, and its scent is familiar to everyone. It was used to 'comfort the stomach' but above all as a cosmetic water, an insect repellent, to scent linen, and as a reviving yet soothing oil.
Melon Seed Oil
A highly nourishing yet light oil with good absorption properties. Contains up to 70% linoleic acid (Omega-6) with superb moisturising properties. Also soothes skin and has anti-inflammatory, acne reduction and hydrating properties.
Organic Chamomile Oil
Commonly used in creams & ointments, to treat skin irritations & inflammations, and for wound & burn healing. Soothing & hydrating properties which are particularly good on the hair & scalp.
Organic Marshmallow Oil
Used to treat inflammatory skin conditions such as eczema and contact dermatitis.
Organic Palm Oil
Rich in antioxidants such as vitamin A and its high concentration of vitamin E. Protects skin cells and improves overall health.
Pomegrante Oil
Improves elasticity of the skin. Excellent for mature, aging & damaged skin.
Sunflower Oil
A light oil, high in linoleic acid, has anti-inflammatory and moisture retention properties. Also naturally high in Omega 6 essential fatty acid.
Our commitment to you
Our products are made without: Parabens, silicones, dyes, synthetic fragrances, formaldehyde carriers, gluten, PEGs or most common allergens
Ingredients
Elaeis Guineensis (Palm) Oil*, Helianthus Annuus (Sunflower) Seed Oil, Cocos Nucifera (Coconut) Oil*, Cera Alba (Beeswax)*, Glyceryl Behenate, Calendula Officinalis (Calendula) Flower Extract*, Carica Papaya Seed Oil, Citrullus lanatus (Watermelon) Seed Oil, Opuntica Ficus Indica (Pear) Seed Oil*, Ribes Nigrum (Blackcurrant) Seed Oil, Zinc Oxide, Punica Granatum (Pomegranate) Seed Oil, Althaea officinalis (Marshmallow) Root Extract*, Anthemis Nobilis (Roman Chamomile) Flower Oil*, Lavandula Angustifolia (Lavender) Herb Oil, Tocopherol, + Limonene+Naturally Occurs in Essential Oils
*Organic 63%
Ingredients 100% natural origin of total