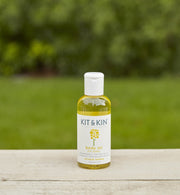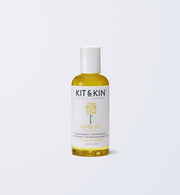 Better for your baby
Approved by dermatologists, Kit & Kin is the biodegradable nappy with premium performance. Featuring a part natural high-tech absorbent core that uses significantly fewer chemicals than standard nappies, Kit & Kin helps protect your baby's soft delicate skin and safeguard it from sensitive skin problems like eczema and nappy rash. Kit & Kin, the natural choice.
Better for our world

Kit & Kin protects the environment too. Conventional nappies are the third largest contributor to landfill, even though only 5% of the population use them! In the UK alone we use 8 million nappies every day, most of which will take up to 500 years to biodegrade. Almost every element of a Kit & Kin nappy – including its packaging – will biodegrade within 3 to 6 years.
Giving back
Every product gives back through the Kit & Kin Foundation. Thanks to your support we help protect acres of threatened rainforest around the world and support women and children living in these areas with educational scholarships, family planning clinics and healthcare. Together, we can make a real difference.
Beauty without bunnies
Kit & Kin are proud to be a member of PETA (People for the Ethical Treatment of Animals). By purchasing cruelty-free products you can help save a number of animals from excruciating tests and a lifetime of suffering.
Does the brand you use test on animals? You can check out here
Awards

Silver
Best New Brand to the Market

Absolute Design Award

Platinum
Best Babies Toiletries Collection

Baby & Child
Best Buy

Cruelty Free

Bronze
Best New Mum/Maternity Skincare Product
Testimonials
"Equally good for le bébé and maman, it's a gorgeous blend of 12 naturally nourishing oils including jojoba, ginseng, rosehip, apricot and papaya. This grease-free formula keeps both Frenchie Mummy and Baba super relaxed and happy."
- The Frenchie Mummy
"We've been using the baby body oil after bath time which smells beautiful and is calming for both of us to rub it all over his little bod."
- Life Vegan Style
"I'm yet to find a product of yours that isn't great! We use the bubble bath, nappies and nipple balm at the moment and they all rock!"
- Kirsty S.
Key actives in our body oil
Apricot Kernel Oil
Rich, nourishing (Vitamin B17) and renowned for its regenerative and toning abilities. Sensitive Skin.
Camellia Seed Oil
Outstanding Moisture and emollient properties; one of the lightest and fast absorbing plant oils. It pentrates skin as fast as water, leaving it supple and hydrated. High in Oleic Acid (Omega 9 Fatty Acid) and contains natural sources of Vitamins A, B and E. Protects skin from harmful UV and environmental damage, forming a thin shield against strong sun rays and change of temperatures. Known to protect from age spots, freckles and excessive pigmentation.
Cranberry Oil
Cold pressed from the seed of the super fruit and contains a very high essential fatty acid profile, along with a good mixed tocopherols and tocotrienols (vitamin E) content, high phytosterols, and a 1:1 ratio of omega 3 to omega 6 essential fatty acids, giving it excellent anti-oxidant activity and skin nurturing benefits. Excellent emollient with moisturising and derma-protective properties thus great for exzema and psoriasis. The seed contains powerful nutrients which are crucial for healthy skin. Offers excellent skin protection.
Fractionated Coconut Oil
A light oil, high in linoleic acid, has anti-inflammatory and moisture retention properties. Also naturally high in Omega 6 essential fatty acid.
Gingseng Extract
Antioxidant. Calming, moisturising and soothing.
Jojoba Oil
Antibacterial and antifungal properties. Contains myristic acid which has anti-inflammatory actions. Since it is similar in composition to the skin's own oils, it is quickly absorbed and thus excellent for dry skins as well as inflamed skin. Softens and protects the skin and improves suppleness.
Lavender Oil
Relaxing and soothing, promotes cell growth. Generally regarded as the most versatile oil therapeutically. Has a well-established tradition as a folk remedy, and its scent is familiar to everyone. It was used to 'comfort the stomach' but above all as a cosmetic water, an insect repellent, to scent linen, and as a reviving yet soothing oil.
Lipex Shea Light
Eco-designed ester for light, silky soft feeling skin.
Marshmallow Extract
Used to treat inflammatory skin conditions such as eczema and contact dermatitis.
Olive Oil
Excellent moisturiser and soothes skin.
Organic Sunflower Oil
A light oil, also high in linoleic acid, has anti-inflammatory and moisture retention properties. Also naturally high in Omega 6 essential fatty acid.
Papaya Oil
Rich in Omega 9 and contains high levels of Oleic Acid (upto 74%). A moisturising, conditioning, nourishing, soft and smooth oil excellent for use in massage. Good for treating rashes and minor skin problems. Antifungal.
Rosehip Oil
Penetrates the skin and almost instantly restores the required moisture balance. Natural Vitamin A.
Our commitment to you
Our products are made without: Parabens, silicones, dyes, synthetic fragrances, formaldehyde carriers, gluten, PEGs or most common allergens
Ingredients
Caprylic/Capric Triglycerides, Helianthus Annuus (Sunflower) Seed Oil, Simmondsia Chinensis (Jojoba) Seed Oil, Squalane, Olea Europaea (Olive) Fruit Oil, Prunus Armeniaca (Apricot) Kernel Oil, Shea Butter Ethyl Esters, Camellia Sinensis Seed Oil, Rosa Canina (Rosehip) Fruit Oil, Eleutherococcus Senticosus (Siberian Ginseng) Root Extract, Althea Officinialis (Marshmallow) Extract*, Fragaria Ananassa (Strawberry) seed oil, Lavandula Angustfolia (Lavender) Herb Oil, Carica Papaya (Papaya) Seed Oil, Vaccinium Macrocarpon (Cranberry) Seed Oil, Tocopherol
* Organic
Ingredients 100% natural of origin total