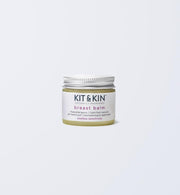 Better for mum
Skin is the body's largest organ and absorbs up to 60% of ingredients in the products we apply. Many bath and body products available today contain toxic ingredients such as parabens and SLS; these synthetic ingredients have been recognised to cause irritation and may even have damaging effects longer term. However, there's much you can do to protect yourself and your family.
Certified Natural

Kit & Kin skincare is certified natural by the COSMOS association, is hypoallergenic, and approved by dermatologists. Your baby deserves the best. You deserve the best. We only use pure oils, gentle herbs and the cleanest ingredients. Our fabulous range will help protect your little ones soft delicate skin and ensure your family steers clear of any harmful toxins.
Giving back
Every product gives back through the Kit & Kin Foundation. Thanks to your support we help protect acres of threatened rainforest around the world and support women and children living in these areas with educational scholarships, family planning clinics and healthcare. Together, we can make a real difference.
Beauty without bunnies
Kit & Kin are proud to be a member of PETA (People for the Ethical Treatment of Animals). By purchasing cruelty-free products you can help save a number of animals from excruciating tests and a lifetime of suffering.
Does the brand you use test on animals? You can check out here
Awards

Silver
Best New Brand to the Market

Absolute Design Award

Platinum
Best Babies Toiletries Collection

Winner
Best New Non Toxic/
Eco Product for Mums

Pregnancy
Best Buy

Cruelty Free

Bronze
Best New Mum/Maternity Skincare Product
Testimonials
"The balm contains a blend of nourishing oils and botanical extracts such as rosemary, coconut, flaxseed and ginseng which help cools, heals and protects nipples, it's been my lifesaver!"
- Alice Anne
"My ultimate favourite has to be the breast balm, it's soothing and has made my breastfeeding journey much easier this time. I'm so glad I came across Kit & Kin."
- The Fat Funny One
"I'm yet to find a product of yours that isn't great! We use the bubble bath, nappies and nipple balm at the moment and they all rock!"
- Kirsty S.
Key actives in our breast balm
Arnica Phytapure Extract
Derived from the flowerheads of the Arnica Montana plant that grows in the wild in alpine meadows. Helenalin, a sesquiterpene lactone, is the main restorative compound in Arnica Montana, along with flavoids, which help soothe and renew the skin after exposure to stress. Arnica's antiseptic, antibacterial, and anti-inflammatory properties may be of some benefit to those with inflammatory skin disorders. It also stimulates the forming of the granular tissues and thus accelerating the healing process.
DEFENSIL®- PLUS
A highly effective first-aid kit to alleviate stressed, sensitive and irritable skin. The outstanding properties of blackcurrant seed oil and balloon vine extract in combination with sunflower oil concentrate effectively reduce inflammatory processes and replenish the damaged skin barrier.
Fiber Booster plus saffron
Flax Seed Oil
High in omega 3 fatty acids. Known for its toning, firming and anti-wrinkle properties.
Organic Coconut Oil
Supports the natural balance of the skin. Softens skin and helps relieve dryness and flaking. Prevents wrinkles, sagging and age spots. Promotes a healthy looking complexion.
Organic Gingseng Extract
Antioxidant. Calming, moisturising and soothing.
Organic Palm Oil
Rich in antioxidants such as vitamin A and its high concentration of vitamin E. Protects skin cells and improves overall health.
Organic Pineapple Extract
Acerola Cherry – Its high vitamin C content helps form collagen, the building block of healthy skin that keeps it toned and youthful in appearance. The anthocyanins help prevent inflammation in outer skin tissues. Can suppress the synthesis of melanin, which gives the skin a "lightening" effect. Pineapple – skin lightening, anti-wrinkle and calms acne. This fruit helps to keep the skin flexible and firm because it increases collagen synthesis. It contains vitamin C and amino acids and these are all skin-friendly nutrients.
Splint & Slim Bougainvillea
Sunflower Oil
A light oil, high in linoleic acid, has anti-inflammatory and moisture retention properties. Also naturally high in Omega 6 essential fatty acid.
Our commitment to you
Our products are made without: Parabens, silicones, dyes, synthetic fragrances, formaldehyde carriers, gluten, PEGs or most common allergens
Ingredients
Elaeis Guinnesis (Palm) Oil*, Helianthus Annuus (Sunflower) Seed Oil, Cera Alba (Beeswax)*, Cocos Nucifera (Coconut) Oil*, Octyldodecanol, Cetearyl Alcohol, Squalane, Aqua, Linum Usitatissimum (Flax) Seed Oil, Ananas Sativus (Pineapple) Fruit Extract*, Ribes Nigrum (Blackcurrant) Seed Oil, Glycerin, Eleutherococcus Senticosus (Siberian Ginseng) Root Extract*, Helianthus Annuus Seed Oil Unsaponifiables, Malpighia Glabra (Acerola Cherry) Fruit Extract*, Arnica Montana (Arnica) Flower Extract*, Crocus Sativus Callus Extract, Bougainvillea Spectabilis Leaf Cell Extract, Cardiospermum Halicacabum Flower/Leaf/Vine/Extract, Gardenia Jasminoides Flower Extract, Rosmarinus Officinalis (Rosemary) Leaf Extract, Parfum, Tocopherol, Citric Acid, Potassium Sorbate, Sodium Benzoate
*Organic 43%
Ingredients 99% natural origin of total