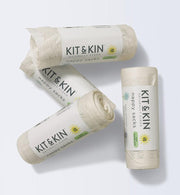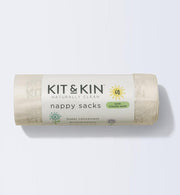 Easier to use
Provided in a perforated roll for quick handling, our sacks make nappy disposal easy and hygienic. Place the used nappy in the disposal bag and tie up.
Better for our world
Kit & Kin nappy sacks are made from 100% sustainable GM-free corn-based film, which helps us to end our dependency on non-renewable materials and protect the future resources of your baby's world. They're also fully compostable, biodegradable, and fragrance-free.
Giving back
Every product gives back through the Kit & Kin Foundation. Thanks to your support we help protect acres of threatened rainforest around the world and support women and children living in these areas with educational scholarships, family planning clinics and healthcare. Together, we can make a real difference.
Beauty without bunnies
Kit & Kin are proud to be a member of PETA (People for the Ethical Treatment of Animals). By purchasing cruelty-free products you can help save a number of animals from excruciating tests and a lifetime of suffering.
Does the brand you use test on animals? You can check out here
Awards

Silver
Best New Brand to the Market

Absolute Design Award

Platinum
Best Babies Toiletries Collection

Cruelty Free
Testimonials
"I also loved the little design touches – when you pull one nappy sack out of the packet, the next one just pops right into place – never to be underestimated when you are holding down a wriggling toddler and dealing with a poonami. You can tell that they have been designed by a mama who knows the struggle!"
- A Mum Track Mind
"Great quality and also biodegradable, which is so important."
- The Littlest Darlings
"I am so impressed with the quality of these sacks – they're so strong and can contain even the biggest of poonamis!"
- A Dizzy Daisy
"I'm yet to find a product of yours that isn't great! We use the bubble bath, nappies and nipple balm at the moment and they all rock!"
- Kirsty S.
Safety warning
Bags can cause suffocation, please keep away from all children and pets. DO NOT FLUSH nappy sacks down the toilet.