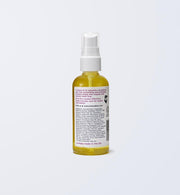 Better for mum
Skin is the body's largest organ and absorbs up to 60% of ingredients in the products we apply. Many bath and body products available today contain toxic ingredients such as parabens and SLS; these synthetic ingredients have been recognised to cause irritation and may even have damaging effects longer term. However, there's much you can do to protect yourself and your family.
Certified Natural

Kit & Kin skincare is certified natural by the COSMOS association, is hypoallergenic, and approved by dermatologists. Your baby deserves the best. You deserve the best. We only use pure oils, gentle herbs and the cleanest ingredients. Our fabulous range will help protect your little ones soft delicate skin and ensure your family steers clear of any harmful toxins.
Giving back
Every product gives back through the Kit & Kin Foundation. Thanks to your support we help protect acres of threatened rainforest around the world and support women and children living in these areas with educational scholarships, family planning clinics and healthcare. Together, we can make a real difference.
Beauty without bunnies
Kit & Kin are proud to be a member of PETA (People for the Ethical Treatment of Animals). By purchasing cruelty-free products you can help save a number of animals from excruciating tests and a lifetime of suffering.
Does the brand you use test on animals? You can check out here
Awards

Silver
Best New Brand to the Market

Absolute Design Award

Platinum
Best Babies Toiletries Collection

Cruelty Free

Bronze
Best New Mum/Maternity Skincare Product
Testimonials
"I have been using this oil and love the how it feels – it doesn't leave a greasy film and is absorbed quickly into the skin."
- Not Such A Model Mum
"It smells lovely and really helps ease any tight or itchy skin."
- A Mum Track Mind
"I'm yet to find a product of yours that isn't great! We use the bubble bath, nappies and nipple balm at the moment and they all rock!"
- Kirsty S.
Key actives in our stretch mark oil
Antileukine 6
For maintaining skin physiology, hydrating, stimulating collagen & GAG. Anti-inflammatory.
Apricot Kernel Oil
Rich, nourishing (Vitamin B17) and renowned for its regenerative and toning abilities. Sensitive Skin.
Camellia Oil Infused
This powerful antioxidant inhibits the formation of cancer-causing free radicals and helps prevent skin cell damage caused by sun exposure. An anti-inflammatory and anti-irritant. Soothing and moisturising to both hair and skin.
Carrot Seed Oil
Toning. Revitalising. Anti-wrinkle. Aids mature skin.
Jojoba Oil
Perfect for stretch marks, to lighten and help heal scars. Antibacterial and antifungal properties. Contains myristic acid which has anti-inflammatory actions. Since it is similar in composition to the skin's own oils, it is quickly absorbed and thus excellent for dry and mature skins as well as inflamed skin. Softens & protects the skin and improves suppleness.
Lavender Oil
Relaxing and soothing. Promotes cell growth.
Macademia Oil
Soothes and protects the skin. Rich in antioxidants & especially high in Vitamin E helping to improve the appearance of scars and preventing stretch marks. The number 1 choice for mature skin.
Mandarin Oil
Excellent for problem skin including acne, scars, spots and stretch marks.
Neroli Oil
Tones scars, stretch marks and mature skin. Anti-wrinkle.
Olive Oil
Excellent moisturiser, soothes skin.
Patchouli Oil
Scars and stretch marks. Tissue regenerator.
Plum Oil
A rich fragrant oil, moisturising absorbs quickly and is high in fatty acids and leaving virtually no residue on the skin. The oil produced is golden and very aromatic. It is rich in oleic acid (60-80%), linoleic acid (15-25%), alpha tocopherols (vitamin E), vitamin B, pro-vitamin B5 (beta-carotene) and beta sito-sterols. This gives the oil excellent moisturising properties and great stability.
Strawberry Oil
Improves skin elasticity. Has an excellent balance of omega 3, 6 and 9 with anti-oxidant properties. Strawberry seeds are purchased from Canada and cold pressed at Statfold here in the UK. The oil produced is dark green with a beautiful sweet odour.
Sunflower Oil
A light oil, high in linoleic acid, has anti-inflammatory and moisture retention properties. Also naturally high in Omega 6 essential fatty acid.
Our commitment to you
Our products are made without: Parabens, silicones, dyes, synthetic fragrances, formaldehyde carriers, gluten, PEGs or most common allergens
Ingredients
Caprylic/Capric Triglyceride, Helianthus Annuus (Sunflower) Seed Oil, Olea Europaea (Olive) Fruit Oil, Simmondsia Chinensis (Jojoba) Oil, Macadamia Ternifolia (Macadamia) Seed Oil, Squalane, Prunus Armeniaca (Apricot) Kernel Oil, Camellia Sinensis leaf extract*, Fragaria ananassa (Strawberry) Seed Oil, Citrus aurantium amara (Neroli) Flower Oil, Citrus Nobilis (Mandarin) Peel Oil, Tocopherol, Citrus Aurantium Bergamia (Bergamot) Fruit Oil, Prunus Domestica (Plum) Natural Oil, Lavandula Angustifolia (Lavender) Herb Oil, Laminaria Ochroleuca Extract, Pogostemon Cablin (Patchouli) Oil, Daucus Carota Sativa (Carrot) Seed Oil, + Limonene, + Linalool, + Farnesol, + Geraniol
+Naturally occurs in essential oils
Ingredients 100% natural origin of total
* Organic